Fizz is
#1 All-Breed 2015, 2016 & Top 10 Breed 2015, 2016, AEDCA National Winner 2016
LOKI R.I.P. March 22, 2018
Much loved and much missed!

I do not have any dogs available at this time but I am hoping for a litter in the fall of 2017
If you are still interested in joining my waiting list, email me.
Loki, M and me.
I have shared my home with a number of dogs beginning with my first dog at the age of three and losing our last non-Eskie (Ditzy) summer of 2005,
Jeannie - Yellow Lab
Nicki - Samoyed/Border Collie mix
Nannette - Miniature Poodle
Pierre - Miniature Poodle
Skooch - Cockapoo
Riker - Coonhound
Tuck - Border Collie/Husky mix
Pippin - Border Collie/Husky mix
Zubie - Great Pyrenees
Echo - Siberian Husky
Tugboat - Newfoundland
Ditzy - Terrier mix.
I began my search, for the "perfect dog" when we lost our Newfie in 2003. My husband's only rule, for the new dog, was that it couldn't weigh more than 60 lbs. I read a ton of books, web pages, and articles looking for my new breed. I decided on an American Eskimo and it's been a whirlwind journey ever since. For our family at least, I have found the perfect breed. Read on and meet our beautiful, little, white balls of fluff. Eskies are, if nothing else, very entertaining!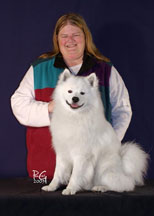 Loki & Me , our first Eskie (but not our last).